By Pat Moody | Posted September 10, 2019 | See original article
Here's a headline we're seeing in Michigan's Great Southwest with increasing regularity: Old Europe Cheese of Benton Harbor Has Done It Again.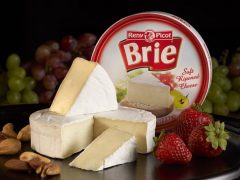 The venerable and talented cheese makers on Empire Avenue in Benton Harbor recent copped first place honors in the 2019 World Dairy Expo Championship Dairy Product Contest. Old Europe's Reny Picot Saint Rocco Triple Crème Brie garnered a composite score of 99.4, making it the first place winner of the Brie and Camembert category.
The prolific and growing company along Empire Avenue in Benton Harbor is no stranger to the winners circle having won hundreds of awards over the years for their specialty cheeses which are marketed worldwide under the Reny Picot brand.
Sponsored by the Wisconsin Dairy Products Association, the World Dairy Expo Championship Dairy Product Contest is the only contest of its kind in North America as no other national contest includes all dairy products. That means that cheese, butter, yogurt, ice cream, cottage cheese, milk, whipping cream, sour cream, and whey processors are all able to compete in the prestigious national competition. The winning companies are then afforded the unprecedented opportunity to promote and market their products as "The Best of the Best" in all of North America.
This year's contest received a record number of entries, with more than 1,500, and judging was held in late August at MATC Culinary Arts School in Madison, Wisconsin. At the upcoming World Dairy Expo in Madison on October 1st, all category first place winners, including Old Europe's Saint Rocco Triple Creme Brie, will be auctioned off. A portion of the proceeds from the contest auction will be used to fund scholarships that are awarded annually to deserving students pursuing careers in the dairy industry.
Old Europe Cheese began handcrafting artisan specialty cheeses in Benton Harbor under the Reny Picot brand back in 1987. Since then, Old Europe Cheese has set its focus on the production of soft-ripened Brie and Camembert as well as some semi-soft cheeses, including Gouda, Edam, Fontina, and Mantoro.
All equipment in the Old Europe Cheese factory is state-of-the-art and designed exclusively for use in the manufacturing of the company's product line. The cheese-making process is truly an art form, and many old techniques are still followed in conjunction with advances in technology and adherence to strict sanitary guidelines.
Old Europe Cheese has been the recipient of hundreds of the most prestigious awards in the dairy and cheese industries, including awards in the World Championship Cheese Contest, American Cheese Society, and the United States Championship Cheese Contest.
Earlier this year Old Europe Cheese was recognized for excellence by the American Cheese Society and brought home three medals from the 2019 ACS Competition in two categories:
Category: Camembert, made from cow's milk
Bronze Medal: Old Europe Cheese 8 oz Camembert
Category: Soft-ripened flavored cheeses, all milks
Bronze Medal: Old Europe Cheese 3 kg Brie with Herbs
Silver Medal: Old Europe Cheese 3 kg Brie with Black and Green Peppercorns
They also won the annual Michigan Cheese Competition for their Triple Crème Brie. That contest, sponsored by the United Dairy Industry of Michigan and Michigan State University Dairy Club, provided the Benton Harbor cheese maker with the top honor, was selected from seven entries, which were judged on aroma, flavor, body, and texture.